A Different Perspective on Direction and Management
By Unal Altay, CIO, V/Line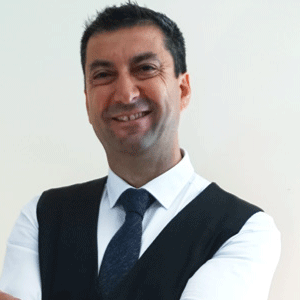 Unal Altay, CIO, V/Line
Unal Altay, CIO at V/Line Corporation drives transformative IT through building and growing people capabilities and capacity to bring disruptive innovation to business operations. Over the last year and half Unal has grown IT's relevance to the business, in-turn growing demand for business information solutions while maturing the team with governance and management frameworks, DevOps, and delivery teams as a result. This has enabled IT to enact step-change across core operational systems, and introduce Artificial Intelligence and Machine Learning technology for practical applications around railway performance. He has led the drive of business change from process driven to data driven.
In an engaging conversation with CIO Advisor APAC, Unal Altay discusses comprehensively about the current IT market trends and shares his insights on tackling the prevailing challenges when it comes to developing technology strategies in line with a business.
1. What are the current market trends that are shaping the IT landscape? How can CIOs tackle them effectively?
Technology market trends such as blockchain, virtual reality, augmented reality, artificial intelligence (AI), and machine learning (ML) continue to dominate the digital agendas of many CIO's. Just as important are the foundational forces, which, while not new, will continue to be front of mind. Modernization of core legacy systems and digital transformation while improving resilience through evolving cyber risk strategies will be on these agendas for many more years. While blockchain is very interesting, I think digital currency is what has drawn attention to it and there is a lack of a global framework/standard for using, developing and implementing blockchain at the business level. Driven by IoT, the industrial internet is really starting to make a shift. This is the conversion of IT and operational technologies (OT). I think this space will really present some business opportunities with the rollout of 5G networks. As the technology evolves, it will provide the ability to control the operational space and perhaps vary production based on real-time consumption of goods and services. Analytics and insight can be utilized to provide a real-time holistic view of the organization, which will drive data-driven decisions. The same data can be used to gain a deep understanding of customer behavior and set the required strategies and direction.
Consumers are more connected today than ever before. The number of mobile phone users in the world is expected to pass the five billion mark this year. By 2020, it is expected that there will be 212 billion "things" connected. Last year Facebook had 2.2 billion active users. There were 600 million daily tweets, and 60 million Instagram photos posted every day. These are some impressive numbers and, no doubt, present challenges as well as opportunities. Consumers are more knowledgeable and demanding today because of social media. More and more e-commerce will be conducted on mobile devices; this is a trend which will continue.
CIO's need to understand how they can improve and deliver on organizational objectives via these various technological trends to improve business processes. We have a lot of data being generated and we can utilize this data to obtain operational excellence and improve customer experience. A CIO needs to change from being a technology provider to a business solution provider. They need to ensure their teams build a solid awareness of the business environment. This will enable them to have robust conversations and effectively communicate with business teams to address company objectives. The focus is not IT value, its business value measured by business objectives.
2. What should a CIO's role be when it comes to following emerging trends?
This is a very good question and the answer is always, "it depends." The CIO's role really depends on the company's appetite for risk. Being an early adapter comes at a cost, and during those times where we have such high profile cybersecurity breaches, a shortage of resources, and funds, I think the CIO really needs to understand and weigh these up against any return on investment. All emerging trends require a lot of investment.
The CIO should continue driving innovation. While setting the culture to drive innovation starts with the CEO and other executives, the CIO has a pivotal role to play. To create innovation, the CIO must drive and support it, ensuring key leadership follows. The CIO needs to be a transformational leader who encourages risk-taking, and a reduction of fear of failure that prevents innovative thinking. This can only really be achieved by making fundamental cultural changes. Building a Dev-Ops team, for example, needs cultural change, not just in IT but also in the entire business. The broader team should be encouraged to innovate, without the fear of failure or reprimand. They should be given enough freedom and scope to work side by side with the business units to better understand the business challenges. This will ensure mutual trust and respect between the business and IT.
Align your teams into core competencies. Core competence is communication, involvement, and a deep commitment to working across organizational boundaries. Don't go overboard with delivery; concentrate on the most viable product and work to deliver that. The idea is to containerize, fail fast, and learn fast.
Building a Dev-Ops team, for example, needs cultural change, not just in IT but also in the entire business
3. How can CIOs develop technology strategies in line with their business?
As I have already touched on previously, the CIO really needs to have alignment with all the business units, especially the operational ones. They need to focus on the needs of the business, how the business works, and how they can utilize technology to improve business processes. Providing information to support decision making should be IT's top priority. As I have stated earlier, it is not about IT, it is about the business. Building and using alliances and partnerships is key. In order to do this, you need to have credibility and be able to demonstrate that you understand their business and their pain points. Credibility comes from delivering what is important to them. Migrating to cloud is fantastic, but the business does not care or understand. If you can automate business processes, saving hours of manual labor and demonstrate savings, while mitigating risk, then you have executive buy-in and credibility.
When it comes to developing these strategies, involve the business and ensure you have the support of the stakeholders. Confirm that the stakeholders understand that they are the recipients of the benefits the technology will deliver. Without the necessary business buy-in and stakeholder advocacy, any technology modernization program will probably not get budgeted or most probably fail.
4. What according to you are the challenges that organizations face when implementing ICT strategies and how can they be overcome?
What I am seeing over the past few years is that the business is very rarely ready to change. The biggest challenge is change management including cultural change. It is never about the technology, I think that's the easiest part. It's always about the people and processes. Perhaps this is because IT people don't really know how to tell a good story. We can't articulate why the current processes need to change, and why we need to modernize our core legacy systems for example. Again, I will touch on what I said previously, ensure the business and stakeholder buy-in is there, and they are advocates to the cause.
CIO's of today need to be good change agents and storytellers using business language to identify opportunities, introduce change, ensure that the timing and appetite is right, create and communicate a clear vision to the business, and these should be aligned to business goals. As we are dealing with people, always monitor employee responses to change and work to bring these to acceptance. For example, use business intelligence to help shape business strategies going forward.
Look for the most viable product, or process, which is a pain point. Concentrate on the current processes and work with the business to design the desired processes, and then implement the technology which addresses the pain point. I find that engaging the business early during the requirements gathering process, and even asking them to commit funds, secures the relationship. Both parties are then committed and have an interest in the outcome. Never underestimate the importance of stakeholder management.
In summary, to implement the digital transformation, the CIO of today needs to align closely to the CFO for continued funding, be the change agent for the organization, aligned with all other executives to ensure ongoing support and commitment, and as this is all about cultural change, needs to work closely with human resources.
5. Can you talk about the digital transformation and how it affects workflows going forward?
IoT is a disruptor and has huge business potential, obtaining meaningful data from the production line across various industries. For example, mining and utilities will potentially save millions for these organizations. Whether using this data to improve operations, build a more efficient value chain, or to better understand consumer behavior, the ability to utilize ML and AI to automate workflows is a real game changer. With IoT comes the importance and need for edge computing.
Companies who want to make well-informed decisions on customers, products, services, employees, and strategy, just to name a few, need to rely on data, analytics, ML, and automation to improve workflows and remove them from the hands of humans, possibly where we only deal with exceptions. The era of improved chat bots utilizing these technologies to start and complete workflows is very soon. So, we will continue to see the promotion of data utilized for meaningful business analytics by those organizations who wish to evolve into data-driven powerhouses.
6. What is your advice for budding CIOs in the IT landscape? How do you see the evolution a few years from now with regard to the disruptions and transformations within the domain?
The CIO role is forever changing. We have already talked today about the various elements a successful CIO needs. With digital transformation, massive organizational change, and people change and acceptance, for example, require the current CIO to wear many hats.
CIO's of the future need to be much more strategic and business focused. The need to concentrate more on business strategy, governance, directing, and leading the technology transformation rather than managing is real. A successful CIO can separate providing direction and governance from management.
The CIO needs to be able to build trusting relationships with other executives throughout the business. This is where business acumen comes in. They need to be able to articulate that they understand the business and their pain points. The smart use of data and technology is what drives growth today. Just about any aspect of a business—product development, customer service, sales, and marketing—can all benefit from technology. All organizations now are IT organizations. Executives and boards need to understand and accept this fact. Being able to provide transparency on IT costs, and how these translate to business benefits, what the business gets for this money really breaks down barriers and builds trust. It allows for a business conversation driven by value optimization that the business understands.
The ever-changing landscape of security is one that demands understanding and strategy. Build information security into the strategy and communicate this at all levels. Cybersecurity is not an afterthought and should be on everybody's mind. While cybersecurity starts in the boardroom, it is up to the CIO to communicate the importance of this to the rest of the organization.
As I have mentioned earlier, transformational leadership requires the CIO to stay abreast of disruptive technology and look for opportunities to implement these into the organization, while resolving a business problem. Again, look to implement the MVP. By using disruptive technology to resolve a business problem, you can gain the trust, alignment, advocacy, and cooperation of executives. You will need this to continue the delivery.
Cultural change is a real problem and takes a lot of time and energy. Culture takes many years to set and is generally driven by something deep within the organization. One of the hardest tasks for the CIO is to ensure that the cultural shift to safeguard the technology is not only implemented but also embedded within the culture. This can only be achieved by recruiting the assistance of other executives within the organization and continuously, tirelessly working with them. There is a reason Edward Deming coined the phrase, "Every organization is perfectly designed to produce the results it is producing," and Peter Drucker said, "Culture eats strategy for breakfast."