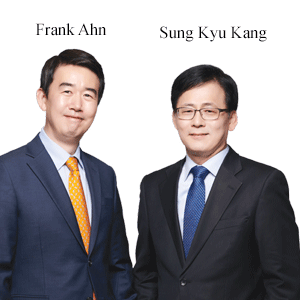 Frank Ahn, CEO and Sung Kyu Kang, Managing Director
Multinational companies operating in Korea demand a comprehensive approach to delivering payroll and HR services along with a thorough understanding of various global business practices. The most common concern among these enterprises is to ensure that employees are paid on time, in compliance with local rules and regulations, and adhering to various group policies and regional practices at the same time. Seoul-based With BPO provides professional services that help organizations overcome hurdles pertaining to payroll and HR administration in Korea along with constantly updating changes in local practices and regulations. "We marry global management with region-specific demands and use our proprietary information technology systems to manage clients' time-consuming tasks associated with HR and payroll," states Frank Ahn, CEO of With BPO. In addition to payroll and HR, the company's comprehensive service portfolio includes accounting and financial reporting, visa and work permit, local compliance, business consultancy, and more.
With BPO's accounting and financial reporting service includes statutory bookkeeping, group management reporting, and private accounting, which ensures monetary transparency and precision. "Our experience in global reporting throughout various jurisdictions helps organizations customize their local accounting and group reporting in any format," adds Sung Kyu Kang, managing director of the company.
In the case of international workers posted by MNCs in Korean operations, With BPO offers visa and work permit services that also address employees' specific needs such as family relocation, short or mid-term work permit, as well as status renewal and cancellation. The company's visa support service includes assessment, pre-advice, appropriate application, process update, and follow-up to guarantee work permits. Furthermore, With BPO provides expat service for international mobility assistance, which includes tax equalization, immigration, social treaty, and special concessions for foreign employees.

The effectiveness of With BPO's services can be illustrated with the company's project for one of the largest global law firms in Korea that needed comprehensive professional support to ensure foreign employees' social security, tax-assisted payments, and non-traditional compensations. With BPO's vast experience in serving global organizations including a number of top law firms helped address the client's issues. Such complex requirements were not adequately fulfilled by the client's previous service provider; hence they sought With BPO's assistance. "Our expertise in meeting all kinds of client demands has helped us serve major global MNCs as well as various local small to midsized enterprises (SMEs)," points Ahn.

What sets With BPO apart from other HR service providers is the company's expertise and its team's extensive experience. CEO Frank Ahn has previously worked in the corporation and international tax departments at Deloitte both in the US and Korea in addition to PwC's corporate administrative services in Korea. All the professionals that are a part of With BPO's core team are experienced in leading industrial practices at various top-tier business consulting firms.

The proficiency of With BPO's workforce has helped it win the 2016 International Arch of Europe award in the gold category for outstanding quality. The company constantly adopts the latest industry trends to stay ahead of the technology curve and uphold the quality of its services. Furthermore, to deliver effective business strategies that boost organizations' overall efficiency, With BPO provides full-scale corporate services and end-to-end lifecycle support starting right from assisting them with the business setup. Also, owing to global demands, the company now plans to introduce its professional employment organization (PEO) in the near future.